WhatsApp | Phone: +212 666 03 91 85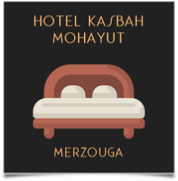 Kasbah Mohayut, a completely restored desert hotel overlooking sand dunes, with panoramic views of the Merzouga desert. With many tailored services from our friendly crew, a relaxing ambiance, and a great location, your stay will be unforgettable.



Kasbah Mohayut welcomes you in a peaceful setting at the foot of the high dunes of Merzouga. It is the perfect choice to combine relaxation, authenticity and adventure! The Kasbah offers spacious rooms and suites around the swimming pool.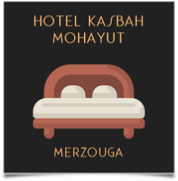 HOTEL MOHAYUT REVIEWS - MERZOUGA HOTEL
With professional advice, travel guides, and inspiration from Hotel Kasbah Mohayut, you may discover, plan, and book your ideal vacation in Merzouga desert. You can design your own personalized vacation with the ideal itinerary. Choose from a variety of desert activities such as 4x4 trips, camel rides, and nights in camp.
TOP-RATED DESERT SAFARI HOTEL IN ERG CHEBBI DUNES, MOROCCO. BROWSE HOTEL REVIEWS FROM OUR CLIENTS IN PAST YEARS.